Here are a few guitars, all of which are cool. All prices are for the guitars shipped and paypal'd CONUS. If you're local here in SoCal, we can discuss the cash n' carry discount.
Epiphone Les Paul Deluxe • SOLD
It ships in a hardshell case. The guitar was my son's and he has become a telecaster kid. It's in great condition except for a guitar stand blemish on the back (which I photographed for your viewing pleasure). Guitar is about 9lbs and sounds great. He and I made a trussrod cover together, but the original is in the case.

Schecter/Fender/Dimarzio partsocaster • SOLD
The body is an old schecter body, routed for S-S-S, so no humbuckers for you. It was originally gold, but was later spraypainted in semigloss black. The black ran, so there are some run marks and the gold has naturally begun to resurface. It has a pretty substantial gash in the finish at the top of the pickguard and there's plenty of belt rash and lovemarks around the guitar. Also, our very own Rich Renken carved his initials in it. The neck is from a 70's strat, but once was outfitted with a locking nut. That has since been replaced with a standard, non-mullet nut but the screw holes and repair are clearly visible. It has Dimarzio Area noiseless vintage pickups and the volume and tone controls have the treble bleed mod as well as the tone to bridge mod. The guitar sounds and plays great and is a ton of fun to play. The high E-string tuner probably needs to be changed because it's loose, but you don't notice while playing it. This guitar is way ugly, but could very well become your best friend. Ships in a faux-leather, well-abused, clay colored gig bag that has probably done a cameo or two in filthy homemade dirty movies. ("IT PUTS THE LOTION IN THE BASKET OR IT GETS THE HOSE AGAIN.")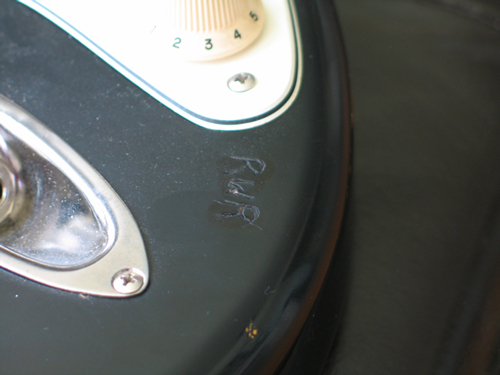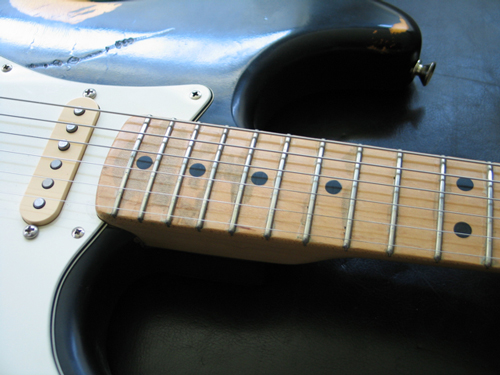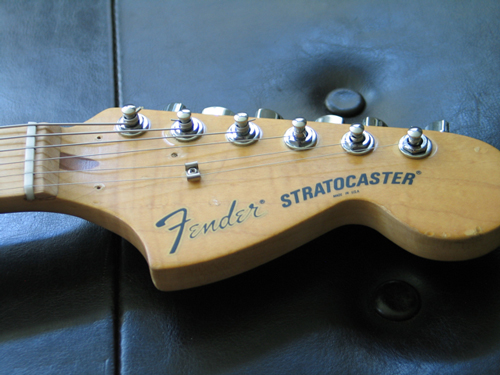 1992-ish American '52 telecaster • SOLD
Ships in a hardcase. The guitar has been around the world on stages big and small… it's seen a million faces, and ro-…fired the bass player. It is well-played but not not intentionally abused. Weight is roughly 8lbs.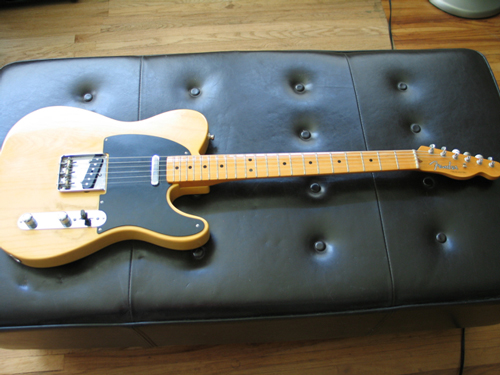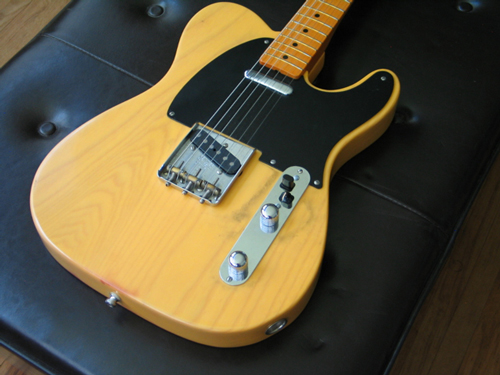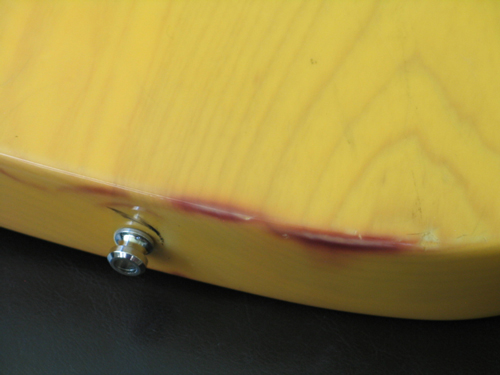 Reverend Pete Anderson Model • SOLD
This is the guitar that was sent to Guitar Player Magazine for their review. They gave it an Editor's Pick Award and that is written and signed on the back of the headstock by Joe Naylor. Satin Black finish is neo-industrial cool and the guitar is in great condition. It ships in the original hardshell case.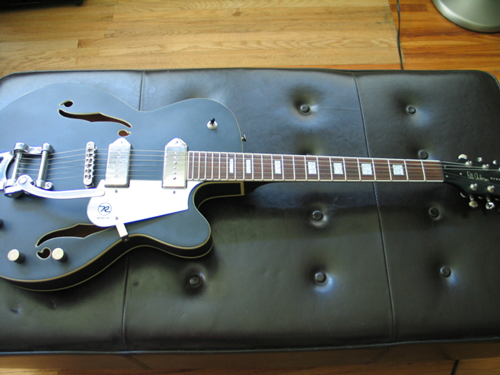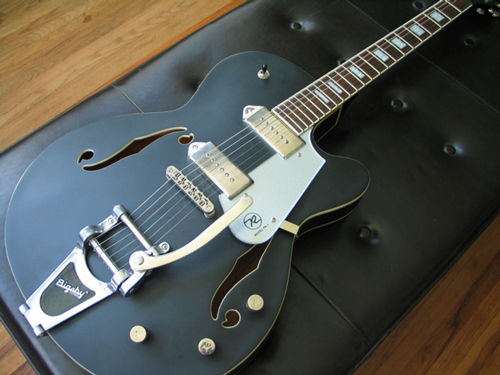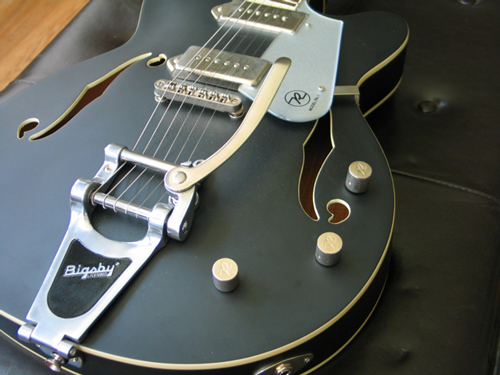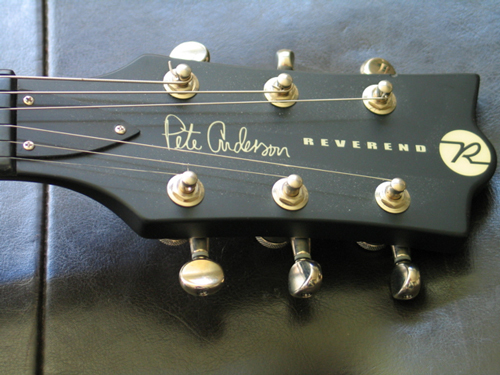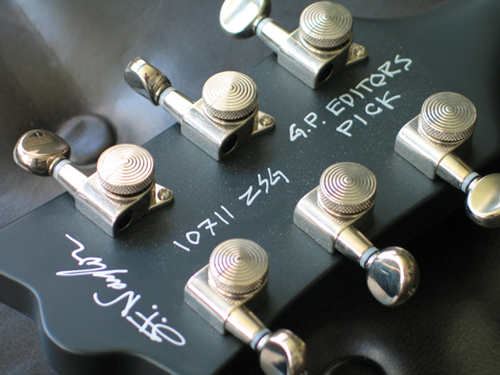 Fender Custom Shop '56 Relic • SOLD
This is a sparkly and articulate strat with a beautifully playing neck. Any time somebody grabs the guitar, they always comment on how great the neck feels. It's slightly fat, like a fat C, but nowhere near baseball bat or boat neck. Guitar is all original and was built in October of 2007. Ships in the original hardshell case.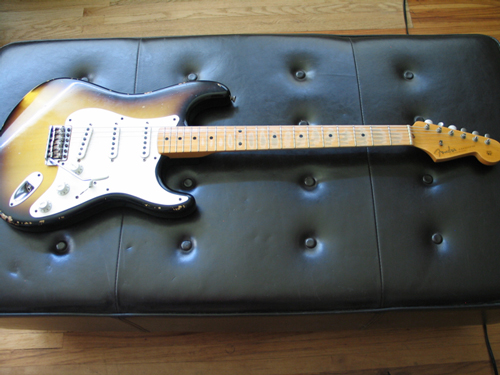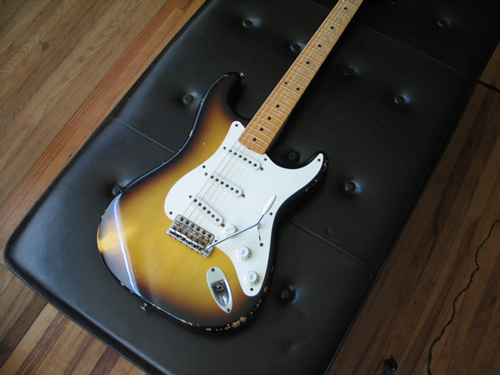 James Tyler Classic • SOLD
A wonderful specimen from Jim's shop. Solid alder, midboost, '59 neck. Excellent condition with exception to 2 very small finish marks, neither of which would photograph and neither of which go beneath the clear coat. This guitar has been babied. Ships in the original hardshell case.